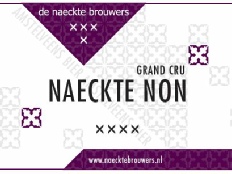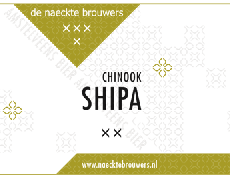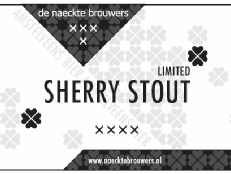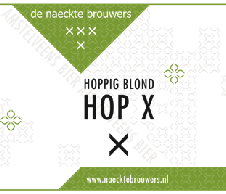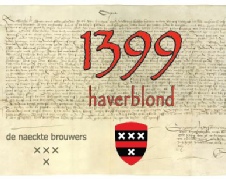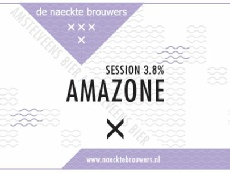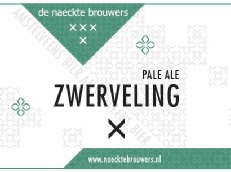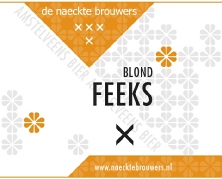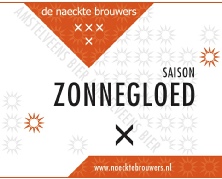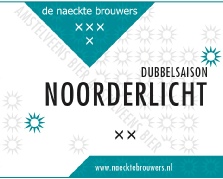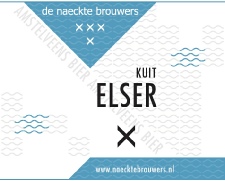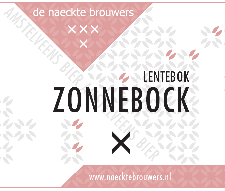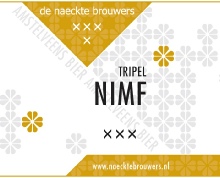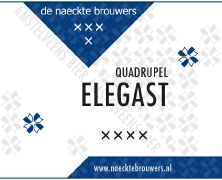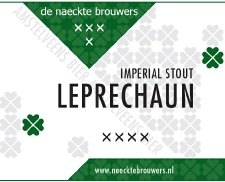 Our Beers
All beers of naeckte brewers are craft brewed and are balanced with the use of pure natural ingredients; modest yet refined. We do not use additives. We brew our beers with only water, barley malt, wheat malt, rye malt, oats, hops, (candy) sugar and yeast. All our beers are unfiltered and not pasturized to keep maximum tast, top fermented with a secondary fermentation in bottles or kegs. Store our bottles upright and drink at a temperture of aproximately 10 degrees Celsius.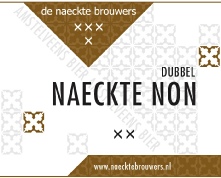 ZWERVELING 6,8% Alc. Imperial Lager
ZWERVELING is a blond beer with Dutch water, Belgian barley, soft bitters of German hops and fruits of American aroma hop.

The world is too beautiful to stay in one place and there are too many interesting people to enrich life. Experience this trip in Zwerveling that reunites several winds.
FEEKS (Shrew) 6% Alc. blond
FEEKS is the first beer which we brewed in our own installation facility, the Naked Brewery (de naeckte brouwers) in Amstelveen. It is a blond, highly fermentation beer with a herby and flowery aroma and soft finishing.

FEEKS rages like a whirl wind around you. Her mood is sometimes not tame, but eventually calm gently. Enjoy her short tempered character and gaze at the beauty of her blond lure.
At Dutch Beer Challende 2019 we won a golden medel with Feeks and 2018 we won a bronze medal.
ZONNEGLOED (Solar Flare) 6,5% Alc. saison
Thirst quenching saison for sunny days with wood and fruit notes and refreshing sauer fruits. Brewed pure and 'naked' with only grain, hops, saison yeast and sugar.

In the hot summer of 1947 two bulb growers enjoyed a cool beer in between the tulip beds, wich was brewed at home in the kitchen. This beer from 'grandma Hommes' was the inspiration for the naeckte brouwers to start brewing too. Solar Flare is a traditional saison made for "real" workers.
NOORDERLICHT (the Northern light) 7,5% Alc. double saison
The wintry counterpart of SOLAR FLARE and therefore only available in winter months when the Northern light appears. Subtle mellow flavor with hints of wood and ripe red fruit.

NOORDERLICHT appears as a supernatural power that allows spirits to dance, snowflakes swirle up and it let's you glow warm by the fiery breath of fighting dragons. It gives relief in the period when the night seems to take over the day and you'd cherish the red-hot heat.
ELSER 5,5% Alc. white / Kuit beer
Old Dutch oat beer with a grassy bouquet, complemented by fresh citrus notes and a taste that we had lost a long time. With this beer we won a gold and bronze medal during The Dutch Beer Challenge 2016 & 2017.

"Elser 'means Elsrijk country as you could find a lot in Amstelveen and Aalsmeer region of origin. In this traditional slightly opalescent and pale calf beer is widely used oats and taste the authentic Dutch atmosphere of the 15th century.
AMAZONE 3.8% Alc. session
Lightly zilty beer by adding sea salt and seaweed, supplemented with refreshing citrus from the hops and well drinkable by the low alcohol percentage of only 3.8%.

Lightly we can not call our Amazon. Driven by maneuver in gallop she knows exactly where we are most vulnerable, so that we can only follow her flow to the zilty endings.
NAECKTE BOCK (the naked bock) 7,5% Alc. fall bock
Brunette showing autumn beer with pronounced caramel, in the distance a spicy touch and a bittersweet aftertaste.

As the nights lengthen and thick gray clouds, driving rain and strong wind take the upper hand, the Naeckte Bock provides some consolation. Embrace this friend and let his jovial character warm your body and mind.
ZONNEBOCK (Solar Bock) 6,8% Alc. spring / summer bock
After many cold months inside the stable it is time to hop out and roll through the fresh grass, enjoying the first rays of sunshine.

Smell and taste the fresh spring and summer in this fresh beer.
1399 5.5% Alc. Oat blonde
On May 25th in the year 1399, Koen van Oosterwijk receives the status of auxiliary officer by act of grant. As a result of the deed, he can levy tax and speak justice in the Amstelreveen area, by naming scouts and shovels. This deed captures the first administrative device of this area and is thus the origin of Amstelveen. Craftsmanship is still in Amstelveen's DNA and, for example, to taste in our beer ELSER, which we have baptized for this occasion in '1399 Haverblond '. An old Dutch white beer with a grassy bouquet, complemented with fresh citrus and a taste we have been lost for a long time.

This beer is available during the anniversary of Amstelveen (25th of May).
NIMF (Nymph) 8,5% Alc. triple
A traditionally brewed triple with a golden yellow color and a fresh, herby after taste. By making use of hops with pronounced citrus tones, this tripple gets a contemporary character. This beer is purely and naturally brewed with water, barley malt, hops, yeast and sugar.

NIMF is like a gentle, sweet lady. She lures silent meditation and sweet reverie, but also encourages performing graceful line dances and singing cheerful spiritual songs. Dive into her sparkling foam and let yourself be carried away by her restless whirl along rushing streams and springs, with jet-black forests, aromatict flower fields and massive mountains; far away from your noisy and busy daily activities.
ELEGAST (Dutch knight) 10% Alc. quadruple
Belgian abbey tyle brewed, brassy heavy barley wine with grainish nose and bitter sweet corn and caramel in taste, combined with a pleasant alcohol warmth.


There is nothing to mess with our brave ELEGAST. On his black horse, this knight is a true folk hero who does not like to be with the rich upper class. His tough character also exhibits gentle touches and that's what makes ELEGAST so charming. A quadruppel which not to be trifled, but a good friend.
LEPRECHAUN 8% Alc. imperial stout
Black beer with full grainful, chocolate, coffee, caramel, pleasant mild bitterness of black malts and hops in the distance light cherry, raisins and citrus tones combined with bouts of a smoky wood fire.

LEPRECHAUN is like a tease which you always bring into raptures. Let not be fooled by its appearance with red beard and green hat with shamrock, because before you know it, all the pots and pans are already overcooking.
NAECKTE NON (Naked Nun) 7,5% Alc. double (brown ale)
NAECKTE NON is a dark beer, inspired by the classic Belgian abbey beers. It is brewed in the traditional style of double abbey beers with some use of water, barley malt, hops, sugar and yeast. NAECKTE NON has a grainy nose, is soft in taste with caramel tones and has a slight bittersweet after taste.

When tasting NAECKTE NON, you will be tempted to honesty and revelation of heart and soul.
At Dutch Beer Challenge 2018 and 2019 we won a silver medal with Naeckte Non
(TEMPORARY) NOT AVAILABLE:
NAECKTE NON GRAND CRU 9% Alc. barley wine
Grand Cru is a heavier version of our beer Naeckte Non and is only brewed once a year. It is a mildly warm winter beer with tones of caramel, chocolate and black malt. This beer is very suitable for long storage and ripening on a bottle.

This beer is only available in winter months.
SHIPA 6,8% Alc. (single hop) IPA
For our SHIPA (Single Hop India Pale Ale) series we choose different hop species for each batch we brew. This single hop is added at different times during the brewing process. Because only one hop species is used, the specific character of this hop can perfectly be smelled and tasted. Till now we have used the hops Chinook, El Dorado and Sorachi Ace. The current SHIPA is brewed with Mosaic hops which give the beer full fruity taste and nose like tangarines, passion fruit, melon and citrus.
As only hop flowers are used, the bitterness droppes quickly after the finish. If you wish to receive additional bitterness, you should keep the bottle upside down before opening. This way the sediment at the bottom of the bottle will go through the beer. The beer will become somewhat cloudy, but the sediment also gives an extra hop dimension.
SHERRY STOUT 8% Alc. stout
SHERRY STOUT is a black beer with tones of chocolate, caramel and bitterness of black roasted barley. Enrichment with sherry wine creates an exciting accent that corresponds to beers that have had a wood storage, but you can best experience this yourself.

This beer was in our assortment during the winter months of 2016 and 2017.
HOP X (formerly known as Hocus Hoppus) 6,8% Alc. Hoppenbier APA
Amstelveen Pale Ale. Fresh golden beer with a full taste and pleasant hop aroma without being really bitter. Using multiple hops which are added at different stages during the brewing process, creates a lovely floral, hoppy aroma and ditto taste. As we only used hop flowers, this APA is not as bitter as of the American IPA's.

Hoppix, which conjures with his favorite natural herb hops, creates a calm stomach and relaxed mind. From the fresh floral flavor, it is good for continuous drinking , but never underestimate the magic of an ancient druid.
© Copyright 2012-2019 de naeckte brouwers Amstelveen Netherlands
Have you tasted our beer(s)?
We are very curious about your opinion.
Please send opinion by email to us at: info@naecktebrouwers.nl